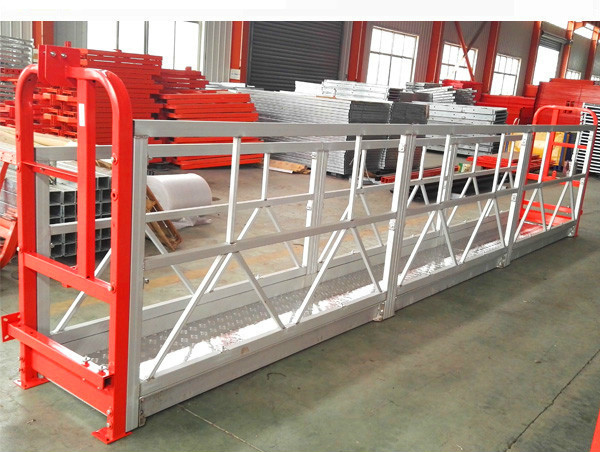 2 Sections 500kg Suspended Access Platforms With 3 Types Counter Weight
SUCCESS brand ZLP Series suspended platform with unique top quality in the field of climbing and decorating machinery, which embody on excellent material, advanced design, refined manufacturing and good service. HAOKE make the most comprehensive models of suspended platform which with most wide range of applications in China. For example, specialized suspended platform for high-rise elevator shaft installation; granary and colliery security explosion-proof platform; dedicated platform for high-rise building tower crane; customized platform for shipbuilding welding and decoration; professional platform for large tank chimney and boiler maintenance; maintenance and decorative platform for dam and bridge; maintenance for exterior wall such as decorate, maintain and clean the external walls of high-level multi-storey buildings and exterior construction, cement coating, veneer, painting, installing the glass curtain walls as well as cleaning and maintenance.
Applying this product can release scaffold free, reduce the construction cost and the efficiency will be greatly increased. Meanwhile, the production is simple, flexible, easy transfer, easy to operate, safe and reliable.
Technical Parameters:
---
Model No.
ZLP500
Rated load(kg)
500
Lifting speed(m/min)
9 - 11
Motor power(kw)
2×1.5, 50HZ/60HZ
Brake torque(Km)
16
Steel rope angle adjusting range(°)
3°- 8°
Distance between two steel rope(mm)
≤100
Rated stretch of front beam(mm)
1500
Suspending Platform
Locking
Aluminum alloy
Nr.Of platform rack
Single rack
Nr.Of platform
3
L×W×H(mm)
(2000×3)×690×1300
Weight(kg)
410 Kg
Suspending mechanism(kg)
2×175 Kg
Counterweight(kg) optional
25×44pcs
Diameter of steel rope(mm)
8.3
Max Lifting height(m)
300
Motor rotation speed(r/min)
1420
Voltage(v) 3PHASES/SINGLE PHASE
220V/380V/415V (customized)